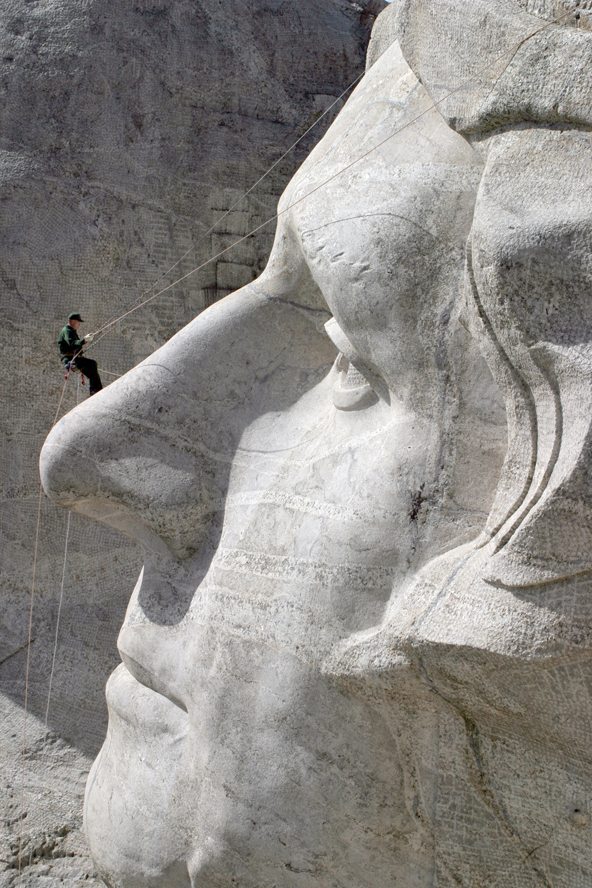 Once a year, the Rangers at Mount Rushmore National Memorial check the monument for damage and cracks in the granite rock faces. I was invited to go on the grueling, breath-taking hike with them. It is an extremely steep climb, up a rugged trail with thousands of steps.

Up at the top, the vast distant landscapes of the Black Hills were amazing. I was able to walk around, on top of the heads of the Presidents, and get visual close up views of each colossal face. Eagles, hawks, vultures and ravens soared over us, sometimes within 10 feet above where we stood, as they worked the thermals of the hills, rocks, and cliffs.
The Ranger who is repelling on the nose of Thomas Jefferson is inspecting known cracks for further expansion and looking for new cracks. The Rangers will try to slow down the cracking by putting waterproof filler in the cracks. This will help keep out moisture and help prevent ice from forming and expanding the cracks.
Feature Photo Specials
Our current feature photo comes from our South Dakota gallery collection. You can purchase the feature photo for a discount on any size "gallery print" of your choosing by using the following payment link. Prices shown in the drop down menu are the discounted price.